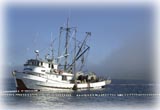 Other Research Projects
"Humanity's hunger for ocean resources and our vast capacity to exploit them result in unprecedented impact upon the oceans and coasts. The disturbing signs of these impacts can be found nearly everywhere we look. Yet, our laws, government institutions, and governance practices have not kept pace with these changes.
Learn more about ocean research projects...